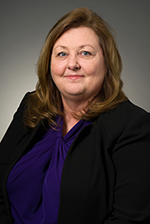 Cathy Friday joined InvesTrust Wealth Management in 2005 and serves as the Chief Financial Officer managing all aspects of the firm's financial reporting.
Prior to joining InvesTrust, Cathy was a tax professional for both a national and regional public accounting firm. She has had ten years of experience in personal trust and has also served in the capacity of chief financial officer for several corporate employers.
Cathy is a graduate of Rose State College with an AA degree in Business Administration. She is also a graduate of The University of Central Oklahoma with a BS degree in Accounting. She is a CPA.
Cathy is an active member of the OSCPA, AICPA and Oklahoma City Chapter of CPA's.
Click here for more information regarding professional designation requirements.