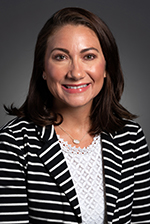 Christina Moore joined InvesTrust Wealth Management in 2020 as a Vice President and Trust Officer. Her primary duties include the administration of trust accounts in accordance with the terms of the trust document, administration of estates, and administrative duties involved with investment management accounts and IRA's.
Christina began her career in the trust industry in 2003 as a trust operations specialist. This position then evolved into future diverse roles in the trust department for an expansive knowledge in several key areas of the industry. Prior to joining InvestTrust, she worked as a Trust Officer and Vice President for a large and locally known financial institution.
Christina is a Colorado native and a graduate of Metropolitan State University of Denver. She received a bachelor's degree in finance with a concentration in personal financial management. In 2018, she received her Certified Trust and Financial Advisor (CTFA) designation from the American Bankers Association.
Christina is a member of the Oklahoma City Estate Planning Council and participates in numerous events hosted by the American Bankers Association for continuing education in her field. She is married with three young children and enjoys spending time with her family at Grand Lake water skiing, kayaking and boating.