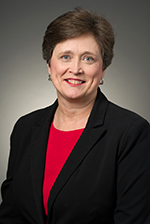 Wendy has been with InvesTrust Wealth Management since its inception in 1985 and serves as the Controller and Human Resources Administrator.
Prior to joining the firm, Wendy worked in the banking industry seven years.
Wendy has her Professional in Human Resources (PHR) designation. She is an active member of The Society for Human Resource Management (SHRM) and the Oklahoma City Human Resource Society (OCHRS).