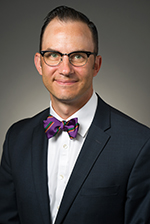 Matt Murphy joined InvesTrust Wealth Management in 2004 and serves as the Chief Technology Officer where he manages all aspects of the firm's information technology department.
Matt received a B.B.A. in Management Information Systems from the University of Oklahoma, and earned a Masters of Information Systems Management from the University of Phoenix. Matt has worked in the information technology field in several capacities and has earned several certifications.
Balancing career with community involvement, Matt is involved in several activities, including supporting local arts programs through the OKC Midtown Rotary Club. He is also a member of the Leadership Oklahoma City Alumni Association.