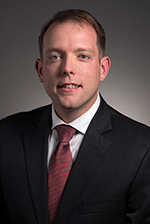 Gregory Baum joined InvesTrust Consulting in 2017 and serves as a consultant for the firm's non-affiliated clients
Gregory has over 10 years of experience in the investment and financial services industry.  Most recently he served as portfolio manager at an Oklahoma City-area trust company, and prior to that he was an associate portfolio manager at a major financial institution in his hometown of Chicago.
Gregory earned an MBA from the Kelley School of Business at Indiana University.  He holds a B.S. in Actuarial Science and Statistics from Purdue University.  He has been a CFA charterholder since 2014, and is currently an officer of the CFA Society Oklahoma.
Click here for more information regarding professional designation requirements.