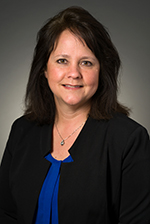 Terri joined InvesTrust in 2006 and serves as a Financial Analyst in the consulting division.  She is responsible for consolidating and analyzing financial data, verifying monthly and quarterly manager performance and preparing investment reports for clients.
Prior to her current role, Terri served as an office manager and administrative assistant for the InvesTrust trust department.
Before joining the firm, Terri worked 10 years in the transportation industry as a transportation supervisor and seven years in the banking industry.